The artist is Vishnyakov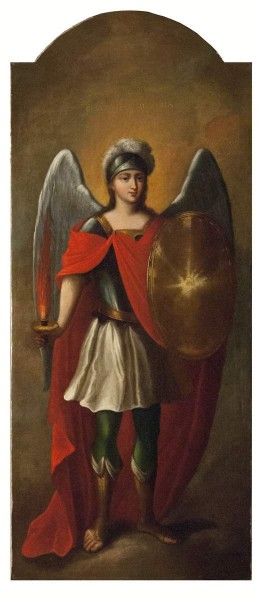 + About the restoration of the work
– Hide the text about restoration
The state of safety before restoration:
The icon was fixed by metal forged nails on the door of the royal gates without proper tension, which provoked the appearance of strong deformations of the canvas, soil craquelure and a colorful layer. The author's base is duplicated, adhesion with dubbling canvas is unsatisfactory, there is a tendency to decline. Differently solid and fragmentary recordings and layering of the Subanistial, changing in the tone and color of varnishes distort not only the author's flavor, but also change the drawing of some details of the work.
Complex of the events:
As a result of the restoration measures, the soil and the colorful layer were strengthened, the old duplicate canvas on the back was removed, the copyright canvas is cleaned of destructed dry glue, in places of breakthroughs with losses of the base are inserts from an old, suitable for the structure of the canvas, and the punctures were covered with punctures, and the punctures were made. As a result of additional studies, it was established: the author's canvas retained its mechanical strength, which made it possible not to duplicate it secondly. Restoration edges were brought up, and the picture is stretched on a new subframe with a substrate under the back of Kapaplast to avoid mechanical vibration of the author's canvas. Restoration soil is brought to the loss of the loss. After removing surface pollution and soot, the integumentary varnish is carried out by the method of Petencofer. Different, changed in color and tone of records are removed; darkened varnishes are laid down on the entire surface, author's varnish is leveled. In places of loss and scuffs, painting is full of tinting. The icon is covered with a protective layer of restoration varnish.
Keeping a story. Restoration workshop of the Russian Museum – 100 years. SPb, 2022. With. 148.