The artist is unknown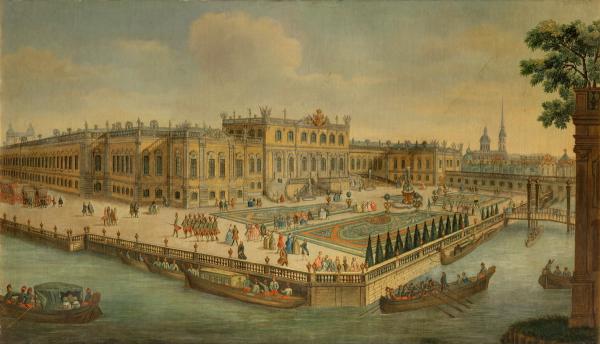 The Summer Palace of Elizabeth Petrovna is the unsuitable imperial residence in St. Petersburg, built by Francesco Bartolomeo Rastrelli in 1741-1744 on the site where the Mikhailovsky (engineering) castle is now located.
In the early 1740s. Francesco Bartolomeo Rastrelli proceeded to the construction of the summer palace in the 3rd year garden for the ruler Anna Leopoldovna. However, while the construction was carried out, a coup, and the hostess of the building became Elizaveta Petrovna. By 1744. Wooden on stone cellars the palace was finished. The architect in the description of the buildings he created said about him: "This building had more than 160 apartments, including the Church, the Hall and the Gallery here. Everything was decorated with mirrors and rich sculpture, as well as a new garden, decorated with beautiful fountains, with an Hermitage built at the level of the first floor surrounded by rich trieants, all the jewelry of which were gilded ". At the territories adjacent to the palace, a decorative park was broken with a huge complex green maze, bosquiters, triely arbors and two trapezoidal with semicircular protrusions of ponds.
Elizaveta Petrovna loved the summer palace very much. In late April – early May (as the weather allowed), the solemn crossing of the empress from the winter residence was formed by a magnificent ceremony with the participation of the court, orchestra, the regiments of the guard for artillery salute of the guns. The queen went on the return trip in the last days of September with the same ceremonies.
September 20, 1754. The future emperor Paul I is born in the walls of the palace. After the death of the queen, the palace is still used: the conclusion of peace with Prussia is celebrated here. In the throne room, Catherine II accepts congratulations from foreign ambassadors on the occasion of accession to the throne. However, over time, the owner begins to give preference to other summer residences, especially the royal village, and the building is breaking. First he is assigned to the residence of g. Orlov, then g. Potemkin. In February 1796. The Elizabethan dwelling broke the "Oldness" and began the construction of a new imperial residence.