The artist is Vishnyakov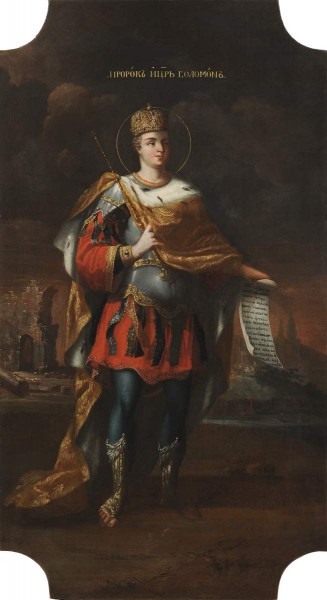 + About the restoration of the work
– Hide the text about restoration
The state of safety before restoration:
Even before entering the museum, the icon was greatly covered and several restorations were passed, including duplication. There were numerous foci of decorating the dublet canvas. The icon is covered with hard craquelure with raised edges. Numerous scree and loss of the colorful layer and soil obtained as a result of mechanical damage required urgent work on technical restoration. The true state of preservation and the color of the author's painting were hidden and distorted by multi -time layers of yellowed varnishes, gross registrations and layers of records on the image of the sky and a poster. The figure of the king and the image of the clothes suffered greatly from the records.
Complex of the events:
The colorful layer and soil were strengthened, redistributing to the new canvas, after which the exhibit is fixed on a previously renovated historical subframe.
After conducting a full complex of physicochemical studies during trial disclosions, layers of records laid fragmented. Several layers of darkened varnishes with inter -lacquers are removed. From under the darkened author's varnish and records, a large number of losses and scuffs of a colorful layer were opened. Author's varnish is laid out in layers with constant control of visible luminescence of UV rays. After removing the darkened restoration varnishes and notes, the author's color of the poster, the sky, and clothes were opened. The color became lighter and more saturated, the author's thin shelter of the letter was revealed. After restoration, the icon is varnished, the tinting of loss and scuffs was performed.
Keeping a story. Restoration workshop of the Russian Museum – 100 years. SPb, 2022. With. 150.