The artist is Bryullov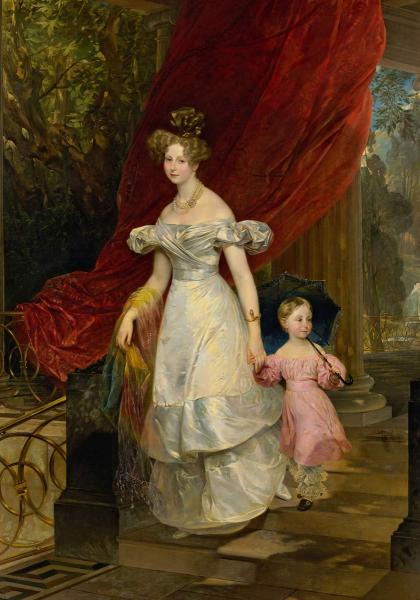 The portrait began in 1829, during the stay of the Grand Duchess Elena Pavlovna in Rome.
A similar portrait of 1829 (waist version) – in the GTG, the option is in a private meeting (Moscow).
Elena Pavlovna (Frederick Charlotte Maria Württemberg; December 28, 1806 / January 9, 1807, Stuttgart − January 9/21, 1873, St. Petersburg) − The Grand Duchess, the wife of Grand Duke Mikhail Pavlovich, a philanthropist, a state and public figure, a supporter of the abolition of serfdom and reforms of the mid -19th century.
The 400th anniversary of the Romanov house. SPb, 2013. With. 110.
Grand Duchess Elena Pavlovna (nee. Frederick Charlotte Maria, Princess Württemberg; 1806 -1873) -daughter of Prince Pavel Karl Friedrich Württemberg from marriage with Princess Charlotte Saxen -altenburg. In 1824 she married Grand Duke Mikhail Pavlovich. She had five daughters: Maria (1825-1846), Elizabeth (1826–1845), Catherine (1827–1894), Alexander (1831–1832) and Anna (1834–1836). According to the memoirs of contemporaries, she had outstanding charm, was distinguished by education, the breadth of interests, and significant intelligence. It is considered one of the founders of the Russian Musical Society, the patroness of the Medical and Surgical Academy.
Programs/Films about this work in the media text:

Female portrait
Creation year: 2006 | Video painting | Language: | Duration: 26:00
Women's portrait is the most attractive and mysterious part of the work of many artists. Two female portraits formed the basis of the film: "Portrait of the Grand Duchess Elena Pavlovna with the daughter of Maria" by the brush of Karl Bryullov and "Portrait of Empress Maria Fedorovna", written by Vladimir Makovsky.