The artist is the lamp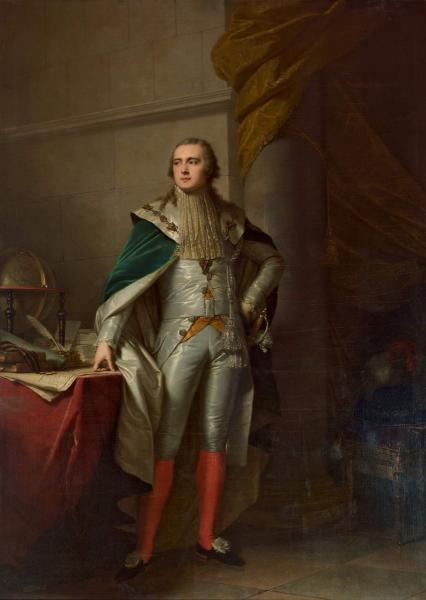 The author of the portrait is Johann Baptist Lampi Senior, Austrian painter. Favorite portraitist of the courtyard and nobility. Worked in Vienna and Warsaw. At the invitation of the prince g g. AND. Potemkina, who was then in Moldova, Lampi went to Yassi and arrived there in January 1792. Having moved to the chamber to St. Petersburg, he stayed there until April 1797., Having fulfilled many portraits of Fatherine II who favored him, faces of the royal family and the highest aristocracy. Gave lessons to Russian artists (from 1792 to 1794 at Lampi studied in. Borovikovsky).
Zubov Valerian Aleksandrovich (1771–1804) – son A. N. Zubov. The youngest of the three Zubov brothers. He began the service in the Life Guards Preobrazhensky regiment, then moved to the equestrian. Lieutenant Colonel (1789). For a message about the capture, Bender received the rank of colonel, was granted to the outbuilding adjutant. For participation in the storming of Izmail, he was awarded the Order of St. George 4th degree (1789). From 1793 – Count. Participated in hostilities in Poland (1792, 1794), in the Persian campaign (1796). In 1797, Paul I was resigned. In 1800, he was again accepted with the rank of general from infantry and appointed director of the 2nd Cadet Corps in St. Petersburg. Member of the conspiracy March 11, 1801. Member of the State Council (1801). Was married to the countess m. F. Potock (nee Lubomirskaya). He was buried in the Zubovskaya tomb of the Trinity-Sergius desert (near St. Petersburg).
Depicted in the robe of the gentleman of the Order of St. Andrew the First -Called with the Order of St. Andrew the First -Called (chain and star). On the table lies the Order of St. George 2nd degree (tape and cross).
Pair to the portrait of the count p.AND.Zubova (Zh-5491).
The Russian Museum. Painting. XVIII century. Catalog. 1998. With. 75, 104.