The artist is Ugryumov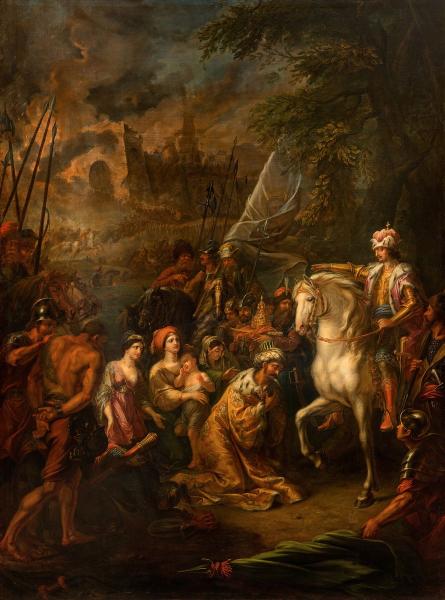 The more accurate name: "The introduction of John IV into the Tatars of Kazan" was written by order of Paul I for the Mikhailovsky castle (St. Petersburg), until 1801 was in the Voskresensky Hall. The emperor personally approved the theme of paintings for the Voskresensky Hall. In the description of the castle, made in February-April of 1801, August Kotzubu, there is an indication that "in a vast hall, decorated under yellow with spots of marble", "hang six large historical paintings, eight arshins and a width of about six". Among them and ""The conquest of Kazan by Tsar Ivan Vasilyevich", a picture written by Ugryumov and well grouped, as well as "Wedding at the kingdom of Mikhail Fedorovich Romanov, grandfather Peter the Great", The very well -executed picture of Ugryumov, deserving a place between the best historical painters of his time "(Cocebu 1801. 976).
For this picture and for the picture "The calling of Mikhail Fedorovich Romanov to the kingdom on March 14, 1613" On August 18, 1800, Ugryumov received the title of professor.
The siege and capture of Kazan by Russian troops led by Ivan the Terrible in 1552 completed the third Kazan campaign (June – October 1552) and put an end to the existence of an independent Kazan khanate. The main battle inside the city occurred on October 2 at the Khan Palace Mosque. Kazan fell, Khan Propes was captured, his warriors were executed. The picture shows a kneeling khan surrounded by wives and children, captive warriors. The author of the monograph on the artist notes that in the annals there is no mention of the wives and children of the Obiger (Zonov. With. 41), which contradicts the information given by the eyewitness of the event (Kurbsky, 1902. With. 27).
Reduced option (sketch?) belonging at the beginning of the 19th century to Count M. With. Vorontsov, located in the NHM RB, Minsk.
John IV Vasilievich Grozny (August 25, 1530 − March 18, 1584) − Grand Duke of Moscow and All Rus' (from 1533), the first king of all Rus' (from 1547).