The artist is Kiprensky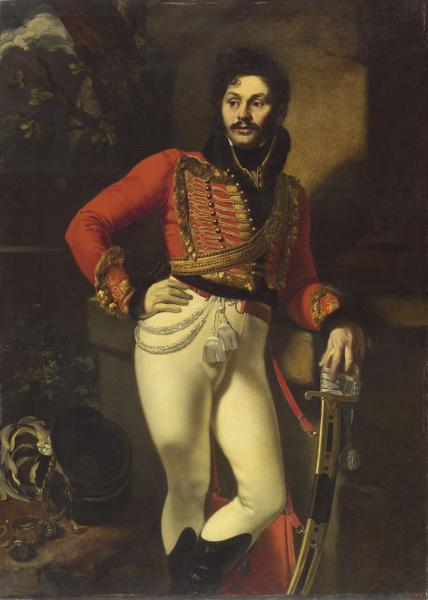 A peculiar manifesto, the standard of the image of the Hero of the Patriotic War of 1812 was the character of the "portrait of the hussar colonel Evgraf Vladimir Davydov" by the brush of Kiprensky (1809) performed three years before Borodin. It is no coincidence that, contrary to the documented truth, for many years it saw the image of the famous hero-passhane Denis Davydov, glorified by exploits and the rumor of the hero. However, it has long and accurately noted that "it is not so important who is captured on this canvas", it is important that the features are concentrated in this character, "… typical of the whole generation of that era". The image created by Cyprus served as a kind of module for portrait painting of the first half of the XIX century. Grigory Goldovsky, Yuri Epatko. "It is not without reason that all of Russia remembers …" // 1812 in works of art from the collection of the Russian Museum. SPb, 2012. With. 7.
A whole epic of searches is associated with the portrait. For about 130 years, it was believed that the portrait depicts the famous Partisan hero Denis Davydov, "poet, shirt, merrychak". However, then he was in the rank of captain. Some researchers claimed that Kiprensky was posed by Denis's younger brother – Evdokim, a beautiful, courageous officer, a participant in many battles, including Borodino, who had seven wounds. Soon after the war, he received the rank of Major General. But Evdokim was a cavalry guard, not a hussar. Currently believe that Denis's cousin is depicted – Evgraf Vladimirovich Davydov.
Davydov Evgraf Vladimirovich (1775–1823) – cousin of the poet and partisan of the Patriotic War of 1812 Denis Vasilyevich Davydov. From 1797-Cornet of the Life Guards of the Hussar Regiment. A participant in wars with Napoleon, in 1805 fought under Austerlitz, in 1812 he was wounded near island. In 1807 he received the rank of colonel, in 1813 for the difference was produced in Major General. In 1813, in the "Battle of Peoples" near Leipzig, he lost his left leg and his right hand. Was awarded a golden sword, the orders of St. George 3rd degree, Austrian Order of Leopold and Prussian Red Eagle. Friend p. AND. Vyazemsky and n. And. Turgenev. Depicted in the form of a colonel of the Life Guards of the Hussar Regiment. 1812 in works of art from the collection of the Russian Museum. SPb, 2012. With. five.
Davydov is depicted standing in a carelessly-free pose, proudly anking, with a hand laid on the hilt of a saber. The spirituality of the courageous and at the same time dreamy warrior is strengthened by the romantic atmosphere of the twilight, permeated with sliding spots of light. Bright and elegant color combinations give the portrait to the papilla. All this together creates an image full of energy and internal dignity.
For this and other portraits in 1812, Kiprensky received the title of academician.