The artist is Shchedrin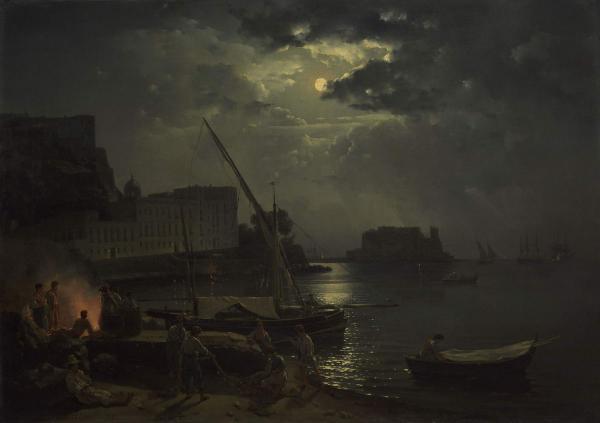 The type of Neapolitan embankment from west to east is presented. In the center-VIA Partenop-a street along which there was a passage from the royal garden to the embankment of Santa Lucia. Above – at home on the hill of Pizzo -ore and the dome of the church of San Francesco di Paola. Right – Castello del. The picture is known in four versions.
In the last years of his life, continuing his picturesque searches, Shchedrin wrote many night landscapes. Most of them are small works, where an artist with special lyricism conveyed a soft moonlight that transforms the usual landscapes. However, by the end of his life in his work, the dramatic beginning is strengthened. From almost classical clarity of attitude in his early works, Shchedrin proceeds to a more dramatic awareness of being.Known in several versions picture "Naples on Moon Night" – a complex canvas, where the artist solves a difficult picturesque problem – combinations of the cold light of the moon with the flame of a burning bonfire. At the same time, he also conveys the general atmosphere of anxiety and tension inherent in the life of the night city, creating a work imbued with pronounced romantic moods. The Russian Museum. From the icon to the present. 2005. With. 131.