The artist is Ivanov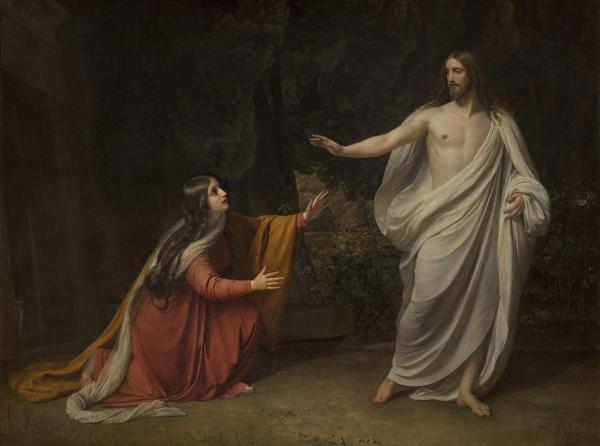 In accordance with the rules adopted at the Academy of Arts, the composition resembles a sculptural group. However, the picture overcome the usual academic stiffness and coldness of the interpretation. The most expressive face of Mary, it conveys the complex emotional state of a woman – traces of sadness, surprise, even fright, and tears of joy and delight. To achieve his task, the artist invited the model to recall all his troubles, then, comforting, he mixed it and held a bulb in front of her. "My eyes full of tears, with a smile on the lips, gave me a perfect concept of Magdalen who saw Jesus".
The face of Christ contrasts with the image of Mary with calm and restraint, the gesture of his hand expresses the prohibition of touching Him.
The picture was a pensioner report by the artist in the OPH about his stay in Italy. In May 1836, she was sent to St. Petersburg, where she was exhibited at the IAX exhibition and received a very high marks. The latter, in particular, was expressed in the fact that Ivanov received the title of academician without appointment for this special program, and the OPH brought the picture as a gift to Emperor Nicholas I.