The artist is unknown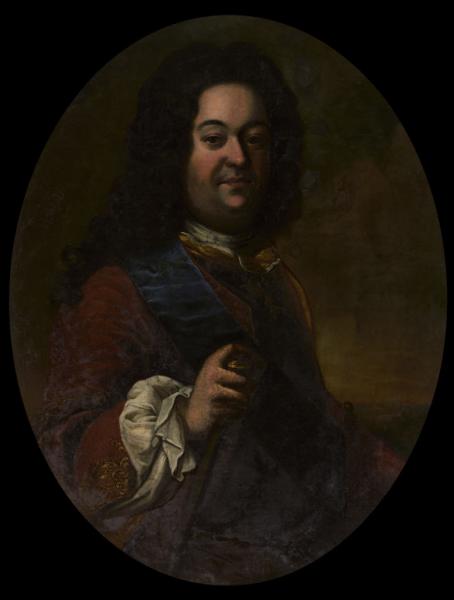 Golovin Nikolay Fedorovich (1695 – July 15, 1745). Count, son F. AND. Golovina. From 1706 he studied at the Navigata school. In 1708 he was sent to Peter I to study marine affairs in England and Holland. Upon returning to Russia, in 1715 it was determined into the fleet as a lieutenant. In 1720 he was promoted to the lieutenant captain, in 1721 after the conclusion of the Nistadt world, he was awarded the 3rd rank captains. In 1724 he was appointed to those present in the Admiralty Contractor. Under Empress Catherine I in 1725, he was defined to the Swedish court as an extraordinary messenger. In 1726 he was promoted to captains of the 2nd rank and granted the Adjutant General from the fleet (corresponded to the rank of captain of the 1st rank), in 1730-to Shautbenakht (Rear Admiral), in 1733-to the admirals and appointed president of the Admiralty College. From 1737, a member of the commission from buildings was responsible for construction on the Admiralty Island. In 1738 he accepted the authorities over the gallery port and fleet. After the Restoration of the Senate in 1741 he was appointed senator, remaining the president of the Admiralty College. In 1742, during the Russian-Swedish war-the governor General of St. Petersburg and the commander in chief of the troops, who were supposed to defend the capital from the possible attack of the Swedes. He was married to Sofia Nikitishna (?), had the only daughter Natalia (she was married to Field Marshal Prince Peter-August Golstein-Bek). Peter I. Time and environment. SPb, 2015. With. 124.
The definition of the uniform is difficult, since until 1745 there were constant changes in the sea uniform regulations. It is possible that it is depicted in a particular dress. Dates from the presence of the order of the Order of St. Andrew the First -Called, to whom he was awarded on November 10, 1740, and by decree of Empress Elizabeth Petrovna of June 18, 1744, according to which Count N. F. Golovin quit "on vacation to cure the disease". (N. X. 2012. With. 60. No. 39). Svetlana Moiseeva / Peter I. Time and environment. SPb, 2015. With. 89.