The artist is unknown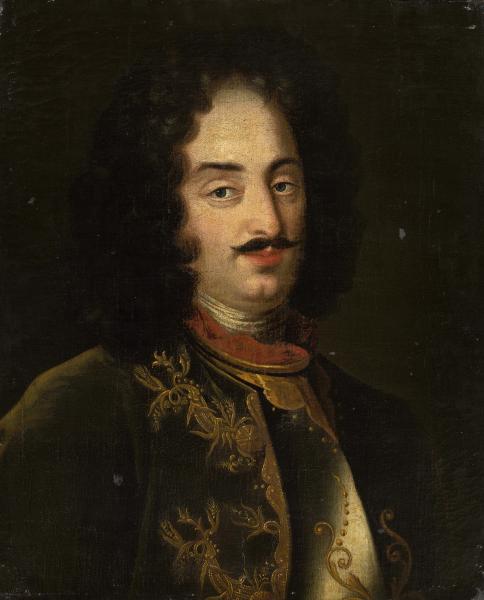 Tolstoy Petr Petrovich (second half of the 1680s-1728) Count, youngest son of Peter Andreevich Tolstoy (1645–1729) and Solomonida Timofeevna Dubrovskaya (?–1722), daughter of stolnik Timofey Bogdanovich Dubrovsky. Like the father, he received the title on the day of the coronation of Catherine I. He served in Little Russia. Since 1719, Colonel of the Nezhinsky Cossack Regiment (1719–1727). Wife (since 1718) Anastasia (Juliana) Ivanovna Skoropadskaya (1703–1733), daughter of the Little Russian hetman Ivan Ilyich Skoropadsky and Anastasia Markovna Markevich (in the first marriage of Golub). In 1727 he was shifted by decree a. D. Menshikova. Having left Little Russia, Tolstoy settled in the village of Yakovlevo, near Moscow, where he died in October 1728. Peter I. Time and environment. SPb, 2015. With. 126.
The portrait of stylistically and technologically can be attributed to the circle of works of Western European masters who worked both in Russia and in Ukraine. Perhaps it is a fragmentary repetition of the portrait from the collection of the Yaroslavl Art Museum. Svetlana Moiseeva / Peter I. Time and environment. SPb, 2015. With. 84.
Show the full text
Hide the full text
In the decree a. D. Menshikov said: "We indicated to Peter Tolstoy in the Nizhinsky regiment Colonel not to be, but to live with his wife and children, in the Great Russian or Fatherland villages to our decree, and for that with his wife and children from Little Russia to send immediately". N. X. Unknown artist. SPb, 2012. With. 40.