The artist is Monier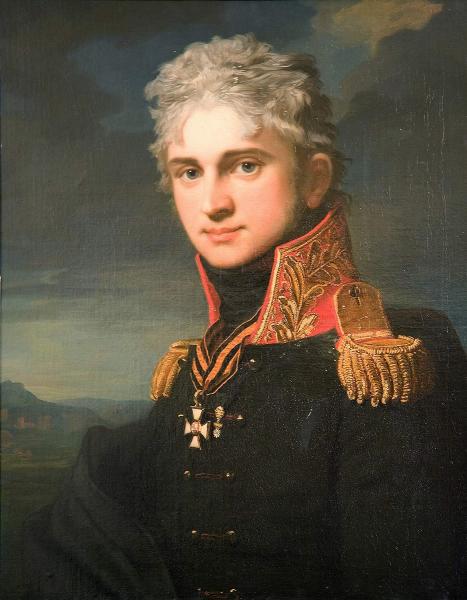 Stroganov Pavel Aleksandrovich (1772–1817) – count, son of Count A. With. Stroganova and Ekaterina Petrovna (nee. Princesses Trubetskoy). Born in Paris, where he lived until 1779. He traveled a lot around Russia with his teacher Gilber Rom. In 1786, to complete the education, he left for Switzerland, from where he arrived in Paris at the beginning of 1789. Member of the events of the Great French Revolution (under the pseudonym Pavel Oke), a member of the Jacobin club. At the end of 1790, by order of Catherine II, he was recalled to Russia. From 1798 a real chamberlain. In the first years of the reign of Alexander I was his closest adviser. In 1801–1803, a member of the unspoken committee under the emperor, since 1804 comrade of the Minister of Internal Affairs. From 1806 senator. Member of the Russian-Swedish (1808–1809), Russian-Turkish (1806–1812), domestic (1812) wars. In 1811, Adjutant General. Cavalier of many Russian and foreign orders.
Since May 6, 1793 he was married to Princess Sofya Vladimirovna Golitsyna (1775-1845). The family had five children: Alexander (died in the battle in 1814), Natalia, Aglaya (Adelaide), Elizabeth and Olga.
The author of the portrait is Jean Laurent Monier, a French painter, a portraitist, court artist Louis XVI and Maria Antoinette. Worked in Russia since 1795 (6?) in 1808. Since 1802, academician of the St. Petersburg Academy of Arts (IAX), since 1806 he led the class of portrait painting. Creator of the Gallery of portraits of the Russian nobility.