The artist is Nikitin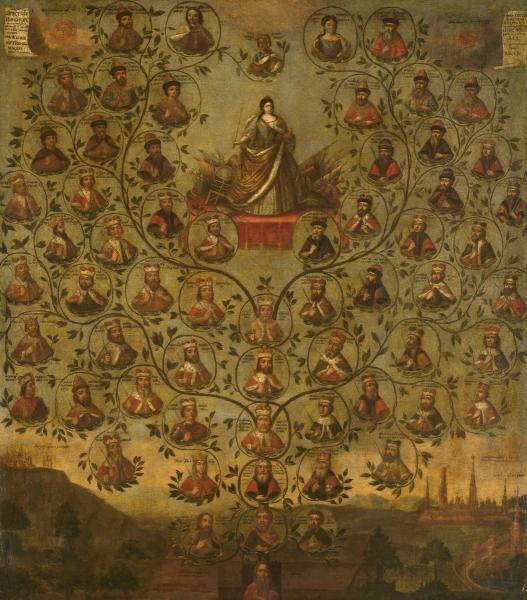 "Tree of Russian sovereigns" – an artistic image of the genealogy (genealogical) tree of Russian kings and great princes – from Rurikovich to the Romanovs. Its iconography arose and flourished at the kings from the Romanov dynasty. The accession of the Romanov dynasty set the task of official confirmation of the legitimacy of the authorities of this house. Famous specialist in the field of historical genealogy m. E. Bychkova expressed the opinion that the first attempt to create a family tree of the royal family according to the laws of Western genealogy belonged to the famous icon painter Simon Ushakov. According to her, such a tree of spiritual genealogy was well known in Byzantium and late medieval Europe, in the 15th century they were widespread in collections of biographies of saints and reverend Catholic monastic orders. A similar picture dated 1731, the center of the image of which is Russian Empress Anna Ioannovna from the Romanov dynasty (1693-1740), is preserved in the Russian Museum, the second daughter of Tsar Ivan V (brother and co -ruler of Tsar Peter I) and Queen Praskovya Fedorovna. In 1710, she was married to the Duke of Courland Friedrich Wilhelm; Vedovev 4 months after the wedding, remained in Courland. After the death of Peter II, he was invited in 1730 to the Russian throne with the Supreme Secret Council, as a monarch with disabilities in favor of aristocrats – "supreme", but with the support of the nobles took all power, dismissing the Supreme Secret Council. The time of her reign later received the name "Bironism/Bironchina" named Her Favorite Ernst Biron.
The author of the canvas is Ivan Nikitin, a Moscow painter of the late XVII -XVIII century, namesake and namesake "personal affairs of the master" And. N. Nikitin. It is mentioned in the documents of the Synod in 1732 in connection with the transfer of trading places belonging to artists. It was there that he sold royal portraits "With a genealogy". There is a known case when this iconography was used at the end of the 19th century as provincial masters of decorative art (miniature icon "The Pediginal Tree of Russian Princes" from the collection of the Rostov Kremlin museum-reserve).