The artist is Zakharov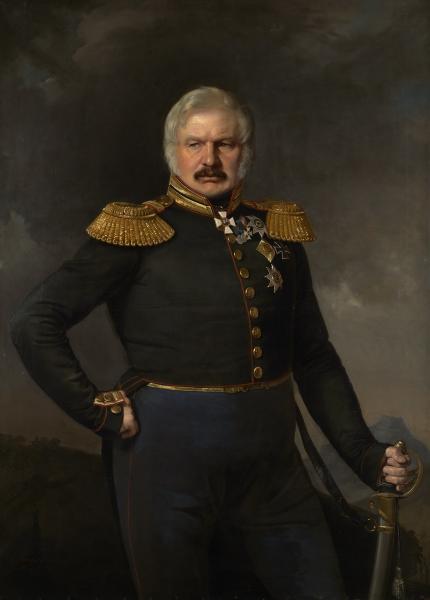 Alexey Petrovich Ermolov (1777-1861) – Russian military leader, statesman and diplomat, general. Son of a state adviser p. AND. Ermolova and Maria Denisovna (nearean. Davydova). In childhood, Preobrazhensky Regiment was recorded in the Life Guards. Got a home education. Under Paul I was in exile. Took part in the military campaign 1805-1807. In 1806-Colonel, in 1808-Major General, in 1810-commander of the Guards Artillery Brigade, then the Guards Infantry Division of the Lithuanian Regiment. During the Patriotic War 1812-1814-chief of staff of the 1st Army, distinguished himself under Borodin. In 1816 he was appointed commander in chief to Georgia, where military operations took place at that time. In 1817, Persia went to the Extraordinary and Plenipotentiary Ambassador to the court of the Persian Shah Feth-Ali, where he spent many months. 1818 – Infantry General. Commander of a separate Georgian corps (1816-1827). In 1827 he resigned. Member of the State Council. In March 1839 "Fired on vacation until the cure of the disease". He lived in Moscow, in 1855 he was elected head of the Moscow militia.
Depicted in the uniform of the general of army horse artillery with the orders of St. Andrew the First -Called (star), St. George 2nd degree (cross on the neck and star), St. Vladimir 1st degree (star), Kulm Cross (Prussian), Military Order of Maria Teresa (Austrian). In the buttonhole, the medal: "In memory of the Patriotic War of 1812" (silver on the Andreevskaya tape), "For the capture of Paris on March 19, 1814". Portrait Gallery of the Russian Museum. Persons of Russia. SPb. 2012. With. 77.
General Ermolov played an important role in the life of the artist Peter Zakharovich Zakharov (Zakharova-Chechen), 1816-1846 (?), picking up a three -year -old Chechen boy who lost his parents during the Caucasian War. AND. P. Ermolov, at that time, the commander in chief of the Caucasian Corps, gave him to educate his news Zakhar Nedonosov, named after which was given the surname and patronymic to the future artist (Zakharov-Chechen). In subsequent years a. P. Ermolov continued to assist his ward. Portrait of General a. P. Ermolov, his Savior, called father, friend, can be considered the main thing in the artist's creative biography. For him, he received the title of academician of portrait painting. Repetition (copy?) the portrait is in the museum in. AND. Tropinin and Moscow artists of his time (Moscow).