The artist is a thunder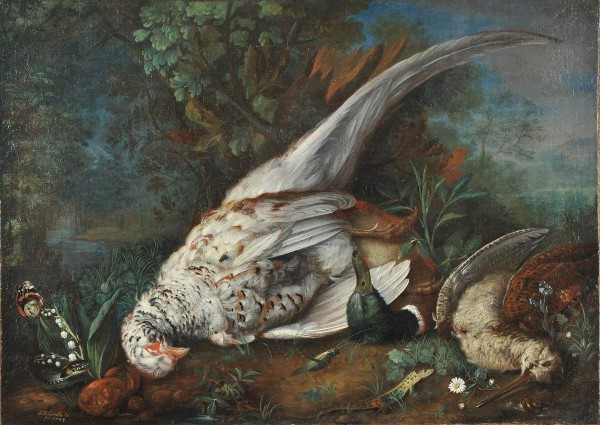 + About the restoration of the work
– Hide the text about restoration
The state of safety before restoration:
Upon admission to restoration, the entire surface of the picture was under a dense yellow layer of varnish. The peculiarity of the work is the author's very subtle approach to the image of parts made with miniature accuracy – plumage of birds, droplets of dew, butterfly wings, tiny ants in various angles, lizard, snake. Therefore, the very dark yellow varnish available in the picture and multiple recordings not only did not allow to see the true flavor of the picture, but also hid many details of virtuoso painting. The colorful layer needed opening.
Complex of the events:
The trial quenching of varnish in control areas showed how much the author's color of the dark dense film of the varnish changes. In cleared areas, the author's blue color of the sky and the white plumage of the bird appeared. In separate areas, where small parts are depicted, visually not visible under the dark thick layer of varnish, the work was carried out under a microscope.
In the process, it was found that the signature lies under a thick film of varnish, but on a later layer of paint. In the process of quenching the recording, an earlier signature was discovered, it was made more miniature and is certainly the author. The upper signature is later, but repeats the name of the author and date.
As a result of the restoration, numerous late layers of varnish, which created the yellow-brown filter, were removed, the inter-lacquers, overloads were removed, and author's lacquer was thorough. In places of loss of the author's colorful layer, soil is brought up and tinted is made. The picture returned to the author's cold color. All miniature picturesque details showing the author's virtuosity became visible.
Keeping a story. Restoration workshop of the Russian Museum – 100 years. SPb, 2022. With. 72.