The artist is a thunder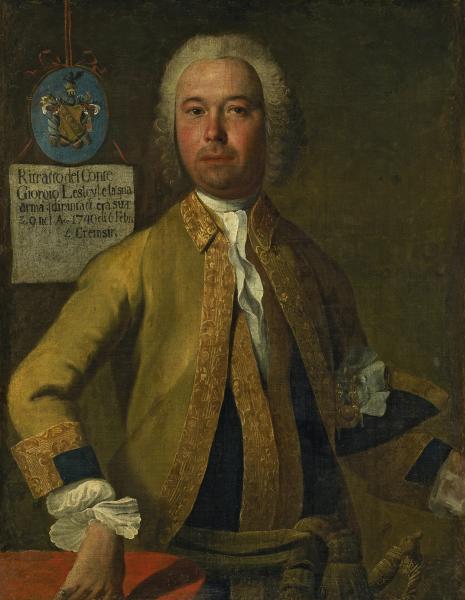 Leslie Georgy Yuryevich (1720/1722–1773). In 1736 he entered the military service, 1737 Second Lieutenant, 1740 Captain, 1745 seconds Major, 1749 Prime Minister-Major, 1753 Lieutenant Colonel, 1755 Colonel. In 1764 he retired with the rank of Major General. In 1749 he served in the Kiev Dragoon Regiment. Depicted in a dragoon uniform.
On the left above under the coat of arms, the inscription: Ritratto del Conte Giorgio Lesley: E la Sua Arma: Dipinta Di Eta Sua 29 Nel AO: 1749 Di 6 Febr. A. Gremsir. On the back of the old dublikovka canvas was the inscription with a pen: Egor Yuryevich Leslie Former in 1736 to take the Turks, in 1745 he was promoted to Miors, in 1765 in generals. He had the son of Dmitriya. A sticker with the inscription with a pen was applied to the picture: g. YU. Leslie. In the Sorochintsy in the Church of the Transfiguration where the penultimate Little Russian hetman was buried in 1734. Daniil Pavlovich Apostle. In the same church, Major General Georgy Leslie was buried in the same church. Barsukov II, p. 149.