The artist is forty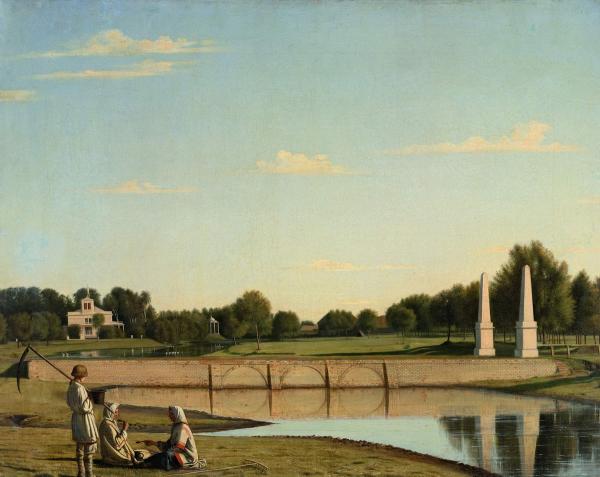 Grigory Soroka is one of the founders of the Russian National Landscape. The fate of the artist was tragic. Fortress landowner n. P. Milyukov, he lived in his estate "islands", where he performed the duties of a gardener. Nickname "Magpie", later transferred to the surname, probably received as a child in connection with a lively curious character. In 1842, artist A. G. Venetianov drew attention to the gifted young man and began to train his painting in his art school in the village of Saphonkovo, located thirty miles from islands. The attempts of Venetinov to achieve the landowner to the liberation of Magpie remained unsuccessful. The artist committed suicide on April 10, 1864 after he was sentenced to bodily punishment as a result of a lawsuit with his former master.
In the picture "View of the dam" The estate of the Spasskoye Tambov province, belonging to the nobles Lepukhin is captured. Confirmation of this is the clothes of vacationing peasant women characteristic of the South Russian provinces: a ribbon – a cape (such as a tunic) on top of a chintz dark dress, woolen yellowness – a short upper female dress with short sleeves, a cut in front and red stripes, dyed alder bark.
Mother n. P. Milyukova – Praskovya Vasilievna (nee. Lepikhina). Probably, to write the native places of the mother of the landowner, the artist was transported to the Tambov province.