The artist is the Mayer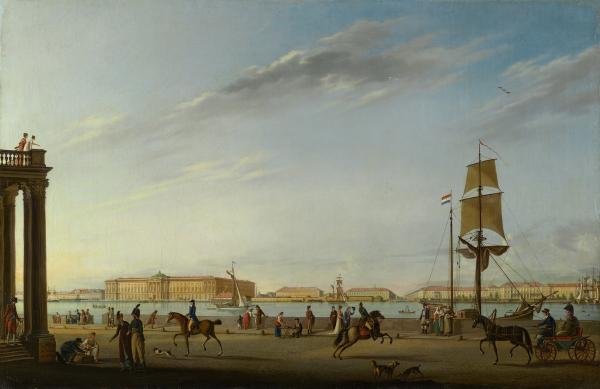 A native of the German city of Nuremberg Johann Georg Mayr was invited to St. Petersburg in 1778 to the post of drawing master at the Academy of Sciences. Between 1796 and 1803, he performed a picturesque series of species of St. Petersburg dedicated to the centenary of the city. Nine works of this series are stored in the State Russian Museum, including this picture.
In the foreground – English embankment. On the opposite bank of the Neva – the embankment of the Vasilievsky Island.
The building of the Academy of Arts is depicted on the left (1764–1788, architects of the.-B. Wallen-Poddemot, a. F. Kokorinov). In the center is the prospect of the first (cadet) line, on the right is the first cadet corps. The central part of it is represented by a rebuilt Menshikovsky Palace (1710, architects and. G. SHEDEL, D. M. Fontana, d. Trezini; Later – and. I AM. Blank, m. G. Zemtsov, perestroika and completion until the 1760s), on the left and right-buildings of construction 1765–1760.