The artist is unknown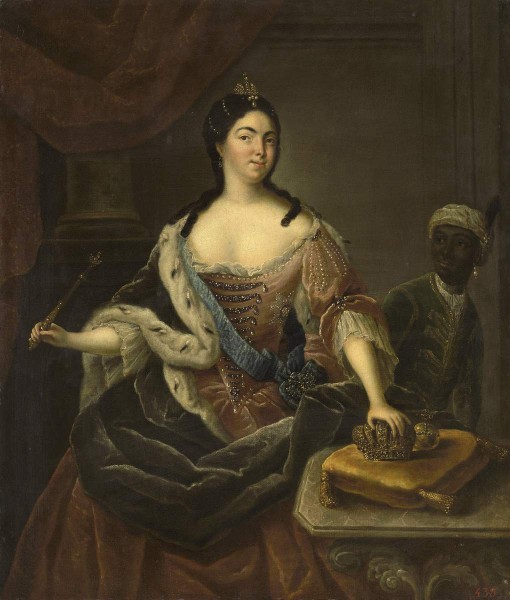 Ekaterina I (March Samuilovna Skavronskaya, Ekaterina Alekseevna Mikhailova; April 5/15, 1684 − May 6/17, 1727, St. Petersburg) − The second wife of Peter the Great, the Russian Empress since 1721 as the wife of the reigning emperor, from 1725 as the ruling sovereign; Mother Empress Elizabeth Petrovna. In her honor, Peter I was established by the Order of St. Catherine (1713) and the city of Yekaterinburg in the Urals (1723) was named. The name of Catherine I also bears the Catherine Palace in Tsarskoye Selo (built under her daughter Elizabeth). Reigned from January 28 /8 February − 1725 to 6/17 May – 1727.
The 400th anniversary of the Romanov house. SPb, 2013. With. 110.
Ekaterina I Alekseevna (Ugre. Marta Skavronskaya, according to other sources Veslevskaya; 1684–1727) – second wife of Peter I, from 1725 – Russian Empress.
Depicted with the tape and star of the Order of St. Andrew the First -Called.
Until 2006, it was believed that the portrait was written in 1715 and. G. Tannauer (portrait of Peter's Time. With. 176). It was established that his author was most likely and. G. Adol, who wrote it in 1725 (Zharkova 2006. With. 191–201)). The assumption that this work is a copy from another portrait of work and. G. Adolsky, not confirmed.
N. X. Unknown artist. SPb, 2012. With. 51.