The artist is a thunder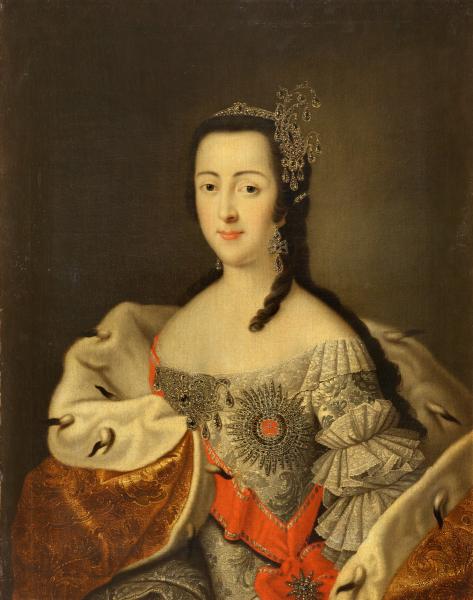 Catherine II Great (Sofia Augusta Frederick Anhalt Tserbstskaya, Ekaterina Alekseevna, April 21/May 2, 1729, Shtettin-November 6/17, 1796, St. Petersburg)-daughter of Prince Christian Augusta Cerbist-Dornburg and Johanna Elizabeth, Princess Golstein-Gottorp. From 1742 the wife of Grand Duke Peter Fedorovich. Came to power in 1762 as a result of the palace coup. Reigned from June 28 /July 9, 1762 to 6/17 November, 1796.
The 400th anniversary of the Romanov house. SPb, 2013.
Before us is a very young lady, about the appearance of which Stanislav Ponatovsky with European gallantry enthusiastically wrote: "Black hair, delightful whiteness of the skin, big blue eyes, spoke, very long black eyelashes, sharp nose, calling to kiss, arms and shoulders perfect shape, medium growth – rather high than low, gait is extremely light and at the same time fulfilled by the majestic nobility, a pleasant timbre of voice, laughter, as cheerful as its disposition, allowing it to easily move from the most frisky, according to -the's childhood carefree games to matters of state importance … "
The image is distinguished by amazing picturesque skill, a great external resemblance to the original and a subtle psychological insight, a delicate understanding of the inner world of a high -ranking model. The artist masterfully wrote out an elegant costume according to the last French fashion of that time and the exquisite, diamonds shining with diamonds in the form of a flower branch. However, against the background of the magnificence of the costume, the state of anxiety becomes even more noticeable, closing the gentle image of the Grand Duchess. In her elongated, thoroughbred face there is no hint of an amazing charm and self -confidence, distinguished by the future of Catherine the Great. Here she is only a small German princess, thanks to the game of the case, which became the bride of the heir to the Russian throne – her unsubstantiated whispering second cousin. The question as if frozen in the wary face: what awaits her ahead in this mysterious, but such alluring Russia?